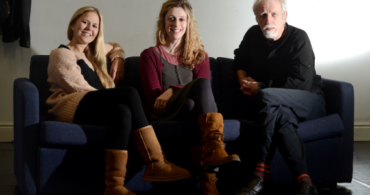 Review of Inner Chimp/Eddie
Pilot's Thumb Theatre Company comprises an unusual grouping; two young women actors/directors Cassie Williamson and Beth Scott-Hewlett, who over seven years, have sustained a productive trio with Danny Strike, writer/director & actor, just old enough to be a father-figure to his partners. The three are equal joint-founders of the theatre company, curiously-named from a line in a play by Shakespeare. Pilot's Thumb was recently awarded, well-deserved, albeit modest funding for this latest project. The women devised 'Inner Chimp' around their favourite theme of 'a soul tormented by personal, insubstantial demons that like spectres, haunt & terrify.' Danny Strike directed the girls.
Pulling out a multifarious repertoire of physical antics, 'the girls' interact as much by using mime, as with conversation. 'Charlie' (Beth) wakes to yet another day of hopeless self-examination or is kept awake at night by things going 'Bump.' Charlie's imaginary playmate, tormentor & insomniac- buddy, 'Chimp' is enthusiatically played by Cassie, a lively and vocal complement to her real-life, co-star. Together, the pair pour hearts and souls into this, their very own, very entertaining play.
After an interval, Danny Strike struts onto the stage to a well-known cockney tune & engages his audience with the consummate skill of a practised raconteur as Eddie, an accidental bigamist. Danny proceeds to give a masterclass performance, his self-penned brilliant lines spoken trippingly off the tongue as if freshly occurring in his mind. And he is wonderfully relaxed and entertaining. with a flow of events involving Barbara, his frowsty wife – played with humorous aplomb by the glamorous Beth Scott-Hewlett, heavily disguised and with a London accent as thick as one of those pea-soup fogs.
How Eddie becomes a bigamist involves some risque 'goings on' with Dorothy, "From two doors along the road." Dorothy is indeed 'a deliciously fast piece' immaculately turned-out with her hair in a French roll, her make-up impeccable; her perfectly formed legs, long and alluring, sheathed in nylon. Entirely altered from her naturally pretty self, Cassie Williamson is almost unrecognisable as Dorothy, the 'painted hussey' and evidently relishes her transformation as much as Beth does hers. Both deliver their lines with Cockney assurance, as engaging and authentic as Danny does.
So, this was another enjoyable live entertainment in the vibrant city of Exeter. Venturing out from their Plymouth base across the South West and further afield – most recenly to Munich – Pilot's Thumb gave this performance at the New Theatre, where students of the Cygnet Training Academy learn the art & craft of theatre production and performance. For more info of Pilot's Thumb shows, go to https://pilotsthumb.com
http://www.remotegoat.com/uk/review/11940/cheeky-cheerful-chumps-plus-bigamy/#reviews
Plymouth company Pilot's Thumb perform in Munich
A SMALL drama company is performing in Germany this weekend on a triple mission.
Three-strong Pilot's Thumb is developing links for a project on World War I, flying the flag for the UK City of Culture bid, and staging its work, Touched, in Munich.
The connection comes through Danny Strike, who co-founded the Plymouth professional company with Cassie Williamson and Beth Scott Hewlett.
He spent 20 years in the Bavarian city where he founded and directed Entity, an English language theatre group.
The performances of Touched are tonight and tomorrow as the guests of Entity at the Pepper Theatre.
The German trip will also be used to develop the Plymouth Great War Project, part of the centenary next year of the 1914-18 conflict.
Touched explores love and loss in a country in recession. Rationing is introduced for power, fuel, food, and legislation is brought in to restrict personal rights.
We meet Thomas (Danny), grieving and lonely; Jessica (Cassie), his daughter, ambitious and frustrated and KC (Beth), a girl with a dream.
"It came from a short play by Laura Quigley," explains Beth.
"We developed the whole one-and-a-half-hour play from a ten-minute piece because we were intrigued by the ending."
Cassie says inspiration also came from fantasy author Terry Pratchett's discussion of his dementia.
"But it is funny even though the subject is thought-provoking."
Beth trained at East 15 Acting School. After working for eight years as an actor in London she returned to Plymouth.
Her work here has included touring with the Barbican Theatre, appearing at the city venue in the drama about painter Robert Lenkiewicz, The Man In The Red Scarf, and filming two episodes of ITV's Port Isaac-based drama, Doc Martin.
Cassie's CV after training at Bretton Hall includes TV (Emmerdale, Doctors and Casualty), film (full-length feature Icharus Broken) and pantomimes.
She moved to Plymouth in 2008 and has worked for Wild Works, Oddbodies, Part Exchange and the Barbican Theatre.
Teacher and actor Danny's track record in Devon and Cornwall, where he moved five years ago, includes Wild Works and the Theatre Royal's People's Company.
Pilot's Thumb began life in 2009. "The name has two meanings," says Danny. "It's from the 'thumbs up' given by plane pilots, an expression of hope and adventure, and by tug boat skippers in Plymouth Sound, and from Macbeth's witches, 'Here I have a pilot's thumb, wracked as homeward he did come'."
Work to date has included two other dramas, Playing With Daisy, by Eleanor Fossey (2009) and Voices, a companion piece, written by Danny (2010).
The company takes up roughly a third of their time, with Cassie working as a pilates instructor and Beth at education centre Brook Green, in between other acting jobs.
The hope is that balance will change thanks to a tie-in with the Barbican Theatre.
Pilot's Thumb is the Castle Street venue's first Flourish company, an idea developed from the seasons that promoted South West companies' new work.
That link will hopefully lead to a successful Arts Council bid to put expand work including current project Protest.
Meanwhile there's a busy couple of months as the company works with the city council's "moving sofa" project giving Plymouth people a platform – well, a seat – to say what they think about the place.
The three partners will perform Protest at Barnstaple Fringe Festival on June 22 and 23 and discussions are going on about a possible link with City College Plymouth.
On June 27, Pilot's Thumb will do a short presentation on Protest at the Barbican as part of Dreadnought's celebration of Plymouth suffragettes.
Read more: http://legacy.thisisplymouth.co.uk/Plymouth-company-Pilot-s-Thumb-perform-Munich/story-18945858-detail/story.html#ixzz2wsibv9NL
FROM Afghanistan with a hint of Marine A, via Russia and a touch of Pussy Riot and off to Germany: that's Protest.
Plymouth company Pilot's Thumb specialises in powerful drama and the latest offering is as powerful and dramatic as they come.
It is the story of the friendship of modern-day suffragettes Jo and Becky, who copy the tactics used by balaclava-clad Russian feminist punk rock protesters Pussy Riot to get their point across.
Meanwhile Royal Marine Tommy – Jo's brother – is accused of abusing prisoners in Afghanistan.
He turns to old soldier Martin for help. "I don't care if he did do it because he's not guilty," the veteran says. "The ones who sent him, they're guilty."
Protest moves towards a conclusion that the company says is 'shocking but ultimately optimistic ending'.
The piece was developed with the help of the Barbican Theatre but in spirit with the international elements and the universal themes, a first port of call is Munich next weekend.
Pilot's Thumb member Danny Strike spent 20 years in the Bavarian city where he founded and an English language theatre group.
The Plymouth company performed in Munich last spring to develop a project on the 100th anniversary this year of the outbreak of World War I.
To borrow an image from war, Protest could be a minefield for the theatre group in garrison city Plymouth. The fallout continues from the conviction last month of Plymouth-based Royal Marine Sgt Alexander Blackman for murdering a wounded Afghan insurgent.
But Danny says, "Protest is not a lecture. It is not one-sided."
And fellow performer Cassie Williamson adds, "We want to divide opinion but we don't tell people what to think."
Danny (who plays Martin), Cassie (Jo), director Beth Scott Hewlett and newcomer performers Sarah Keogh (Becky) and Mark Gillham (Tommy) aren't risking their liberty like Pussy Riot, but they are in jeopardy of losing their money.
The piece is self-financed – there is no arts body funding.
Protest has emerged from the Barbican Theatre's Flourish initiative to develop new work. Pilot's Thumb was based at the Castle Street venue for a year as the Barbican's Flourish Company.
The theatre provided help in kind to improve and expand the piece, which uses multi-media, 'theatrical collage', dance and narrative.
Rehearsal space was made available at the Barbican and the theatre's dance director Jules Laville helped with choreography while artistic director Mark Laville gave his time, too.
Pilot's Thumb is also linked to Pennycomequick Arts, a Plymouth co-operative whose work includes opening up new venues such as pubs. The company recently performed a piece at the Mayflower Pub in the Barbican and will return there in May.
Another project in the pipeline is a performance on a paranormal theme for an invited audience at city landmark the Palace Theatre in Union Street.
The listed building, neglected after closure following a spell as the Dance Academy nightclub, and now being refurbished, brings back memories.
"I went there as a kid to see panto in the 1950s," says Danny.
"I went there clubbing when it was the Dance Academy," says Beth. "It's an amazing building."
Pilot's Thumb take Protest to Munich on January 24 and 25 and the Barbican Theatre on February 7. A South West tour includes the Rondo Theatre, Bath (March 7), Exeter's Cygnet Theatre (March 14) and Brixham Theatre (March 21) and finishes at City College Plymouth (April 3).
Read more: http://www.plymouthherald.co.uk/Protest-borrows-Pussy-Riot-style-war-drama/story-20452782-detail/story.html#ixzz2wsjatUn6
Thumbs up for Pilot project
IT'S thumbs up from the Arts Council for a city theatre company's Pussy Riot-style drama.
Pilot's Thumb has won funding for Protest, a story of suffragettes who copy the tactics used by the balaclava-clad Russian feminist campaigners.
The Plymouth company developed the piece with the help of the Barbican Theatre.
The socially-aware drama specialists took Protest to Germany last month and are about to embark on a South West tour.
This is the first time Pilot's Thumb has had support from the Arts Council, which is providing £9,500.
"It means we can take on two new actors and pay ourselves," says Danny Strike, who co-founded the company with Cassie Williamson and Beth Scott Hewlett in 2009.
"It feels great. We've had to work hard for four years for this. It feels like, 'God, that was worth it'."
Up to now the company has had to be self-supporting.
The two exceptions have been the connections with Germany and the Barbican Theatre.
Pilot's Thumb has been the city venue's first Flourish company, building on the succession of mini-seasons of the same name which have developed new work by South West stage organisations.
The company took Protest to Munich thanks to the link with Entity, a theatre group that Danny founded 15 years ago in the Bavarian city.
"They flew us in two perform Protest and each year they have flown one or two of us in to do work with them," says Danny.
"We sold out both houses for Protest, about 150 each. It went extremely well."
Protest plays for one night on Friday, Febuary 7 at the Barbican Theatre with every sign that the Castle Street venue will be sold out.
The two women protesters, Jo and Becky, are played by Cassie and newcomer Sarah Keogh, respectively.
Mark Gillham, also fresh to Pilot's Thumb, takes the role of Royal Marine Tommy – Jo's brother – who is accused of abusing prisoners in Afghanistan.
Danny plays old soldier Martin, to whom Tommy turns for help.
The multi-media production is directed by Beth.
After the tour finishes the hope is to attract more Arts Council funding to develop a new piece. Taking Protest to the Edinburgh Festival next year is another aim.
Protest is at the Barbican Theatre on Friday, February 7, then at the Rondo Theatre, Bath (March 7), Exeter's Cygnet Theatre (March 14), Brixham Theatre (March 21) and at City College Plymouth (April 3).
Read more: http://www.plymouthherald.co.uk/Thumbs-Pilot-project/story-20563295-detail/story.html#ixzz2wtUMzrlV