PILOT'S THUMB THEATRE WHO ARE KNOWN FOR THEIR EDGY SOCIAL AND POLITICAL DRAMA COMBINED WITH POWERFUL NARRATIVES, ENGAGING CHARACTERS AND PITHY HUMOUR HAVE BEEN ASTOUNDING AUDIENCES BOTH INTELLECTUALLY AND IMAGINATIVELY SINCE THEIR INCEPTION IN 2009.
The Core Company
Cassie Williamson
Cassie trained at Bretton Hall and earned a BA (Hons) in Theatre Acting. She also gained a LAMDA award. After graduating she spent five years in London working on various stage and screen productions from Pantomime and TIE to feature films (Icharus Broken) and TV (Emmerdale, Doctors, Casualty). After a move to Plymouth in 2008, Cassie embarked on further acting projects with BBC Radio Devon (two radio plays), Wildworks (The Beautiful Journey), Oddbodies (The Nature of Angrove), Burn the Curtain (Alice in Wonderland at Antony House), Part Exchange (Hidden City Festival) and the Barbican Theatre (Man in the Red Scarf) where she then met Beth and Danny and Pilot's Thumb was born. For Pilot's Thumb Cassie played Esther in 'Playing with Daisy', Cheryl in 'Voices', Jessica in 'Touched', Louise in 'Cover Story', Jo in 'Protest', Dorothy in 'Eddy', Chimp in Inner Chimp and Christine in Pilot's Thumb's most recent production Yezno performed at the Barbican Theatre.
Beth Scott-Hewlett
In 2000 Beth attended East 15 School graduating in 2003 with a BA Degree. After graduation, Beth lived in London for a further eight years appearing in variousproductions in theatres, including the Old Red Lion and The Pentameters in Hampstead. In 2009 Beth returned to Plymouth to play the role of Sam at The Barbican theatre in 'The Man in The Red scarf'. Beth went onto work with Wildworks Theatre Company as well as touring with the Barbican Theatre and filmed two episodes of Doc Martin. In 2009 Beth formed Pilot's thumb Theatre Company with Cassie Williamson and Danny Strike. Pilot's Thumb was awarded Arts Council Funding and became a flourish supported company for the Barbican Theatre as well as being commissioned to work with Plymouth City Council. The Company were reviewed by the National Guardian newspaper and have become well known throughout Plymouth and the local theatre scene. For Pilot's Thumb, Beth has played Daisy in Playing with Daisy, Pam in Voices, KC in touched and Chimp in Inner Chimp. Beth played the title role of Emily in A Day in the Night of Emily Hayes which was commissioned for Outpost at the Royal William yard. Beth has directed Protest and Deadline and most recently was the assistant director for the company's latest production Yezno seen at The Barbican Theatre.
Danny Strike
After a career spent in education and theatre in Munich and London during which time he founded and directed the Entity Theatre Company, now one of Germany's premiere English speaking theatre companies, and established a Film Making and Theatre course for European Baccalaureate students, Danny returned to Plymouth, met Cassie and Beth and Pilot's Thumb was born. Since his return Danny has acted for Wildworks, Burn The Curtain, People's Company and Pilot's Thumb for whom he also writes and directs. During the last ten years Danny has written fifteen plays ranging from ten minute pieces to full length dramas. Three of his cameo pieces have been produced at the Theatre Royal, Plymouth in association with projects run by the theatre's writers' forum under the direction of David Prescott: "Lost Property" -a soldier loses his campaign medal in the theatre; "The Shrew" – a modern version of Shakespeare's "Taming.." and "A Plymouth Childhood" part of a Paines Plough national project. Many of his plays have been performed by Pilot's Thumb throughout the West Country. Particular highlights have been "Protest "- a story of modern suffrage, which attracted Arts Council funding during Pilot's Thumb's residency at the Barbican Theatre, Plymouth; "A Day in The Night of Emily Hayes" -a study of insomnia, which was commissioned by Outpost at The Royal William Yard; "Eddie"- tales of a rogue, and his latest piece "Yezno" – the story of a struggling marriage in the early 1970's. Acting wise he has taken a number of roles with Pilot's Thumb: The lead in "Eddie"; Tom in "Touched"- a dystopic look at a post Brexit Britain; Paul in "Cover Story"- based on the case of Christopher Jefferies, and Martin in "Protest." He has thoroughly enjoyed working with Beth and Cassie and has a number of ambitions he would still like to fulfil with Pilot's Thumb, most significant of which is to play the lead in his play "Ton Up" to be performed by on his hundredth birthday.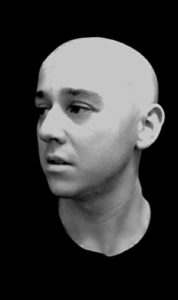 John James McColl
John James McColl graduated from Marjon University in 2016 with a BA Hons in Acting. He toured with the Actors Wheel, having played such characters as Caliban (The Tempest), Mammon (The Feast of Famine) and The Fat Prince (Caucasian Chalk Circle). He has performed in A Midsummer Night's Dream, Romeo and Juliet and most recently Macbeth with The Barbican Theatre. He has also performed with various Plymouth- based theatre companies in South-West theatre festivals over a period of 5 years.
Vince Sutton
After moving to Plymouth about eight years ago, Vince joined the Theatre Royal Peoples Company and began exploring the world of theatre and acting. He has performed a number of times with them in The Drum, most recently in the cast of All Your Gold. His favourite role with the people's company has been playing Urgentino (The Doge) in Scenes From An Execution by Howard Barker. Last year he played The Chaplain in Mother Courage with Dartington Playgoers. A highlight has been working for the first time working with Pilots Thumb in playing the older Martin in Yezno